About Sherwin Dodge Printers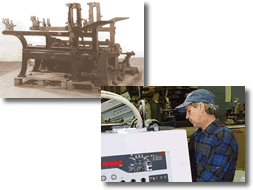 Sherwin Dodge Printers began as the Courier Printing Company in 1889. Over 130 years of experience means that Sherwin Dodge Printers has grown with the times, held on to high quality standards in the process, and has served five generations of customers well.
Sherwin Dodge customers represent business and industry, resorts, schools, government agencies, non-profit organizations, other printers and publishers, and individuals.
We have a wall full of awards for technical excellence, but we owe our distinguished track record to our ability to satisfy the desires of our customers. We don't treat our customers as a "job." We take seriously the fact that your organization's image is reflected in your brochure, book, or postcard. We listen to your requirements and work with you so that you are pleased with and proud of the finished product.
For more information or to send us your next project, please contact us at:
Owner: Doug Garfield: dgarfield@sherwindodgeprinters.com
Send files to Kevin Emerson: files@sherwindodgeprinters.com